Labradoodle Training Atlanta
Training Packages
Lord and Lady Labradoodles are exceptional Dogs with wonderful demeanors and personalities. Those characteristics can be enhanced by good training as well as family bonding. Lord and Lady Labradoodles offers the following training program packages:
Basic Labradoodle Training
(starting at 8, 9 or 10 weeks old):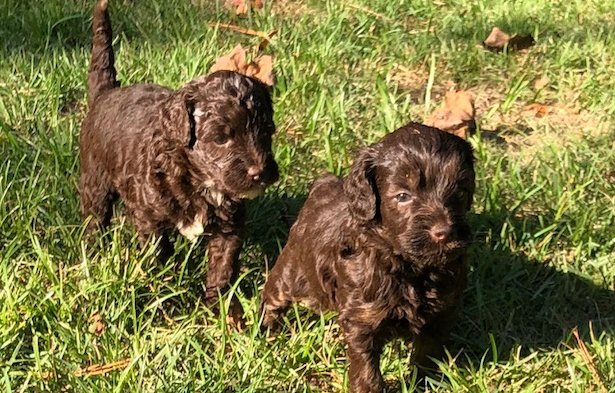 Crate Training – to feel comfortable in puppy's crate.(Puppy Family to provide same crate they will use at home.)
Puppy will sleep comfortably in his crate
Puppy will learn his crate is his comfort zone and "happy place"
Potty Training - Continuation of potty training after having been raised in our Pre-potty training system.
Lots of rewards/praises for good choices
Introduction of basic commands
Name recognition
Sit using both verbal and hand signals
Climbing Stairs of different heights
Puppy will be introduced to the leash and walking on a loose leash
Commands we will cover: down, sit-stay, wait and come when called.
Socialization with people of different ages
Note: Puppies learn at different paces.
Some may respond better than others as the maturity level and attention span can differ with ages and puppies.
Advanced Obedience Training
(starting at 6 months of age to 2 years old):

Our 28 day obedience training program that is performed by our professional trainer starts with a meet and greet to evaluate your dog's potential for training. Your dog will stay with our trainer throughout training but you will be allowed to visit periodically, this will minimize distractions and create an environment that is ideal for learning, as well as socialization with other dogs. We will have a demonstration to show you what your dog has learned, and provide the information you will need to use the commands they have learned. After training, your dog will be a more enjoyable family pet.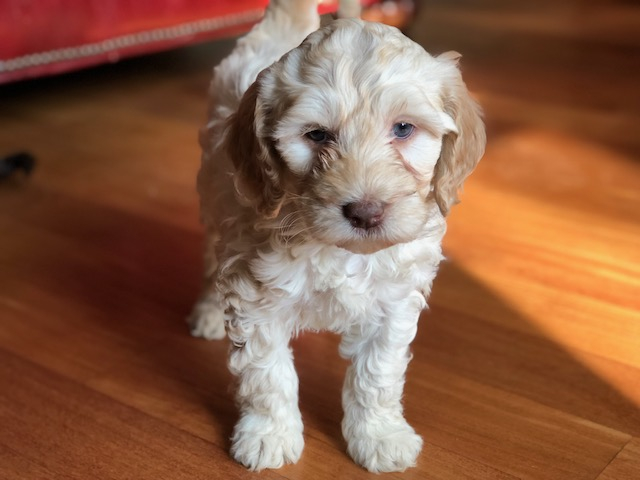 Service Dog Training:
Lord and Lady Labradoodles has placed many of our dogs with clients for specific Service/Therapy Dog careers. Each placement is customized depending on your situation and needs. Our professional trainer starts with a detailed discussion to determine your needs and the type of dog that would best fit your needs. An extensive puppy litter evaluation is performed to determine service/therapy dog candidates and then a customized training program begins. Our service dogs have the total package very smart wonderful demeanor and super cute!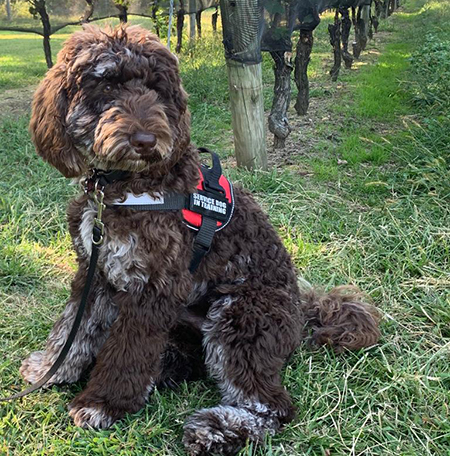 Types of Service/Therapy Dog Categories: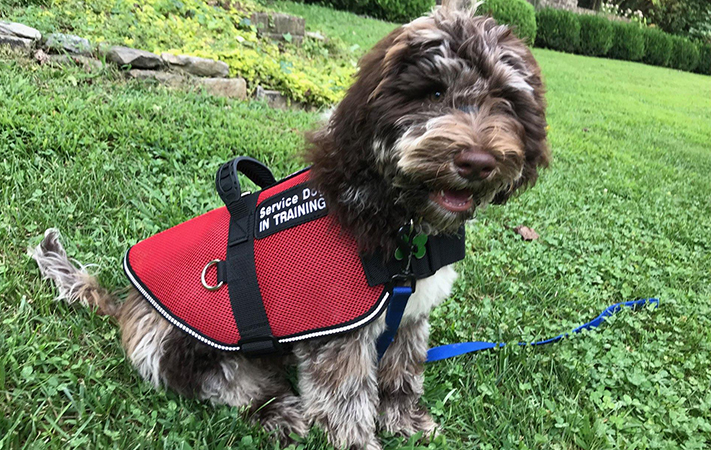 Seizure Alert Dogs (including Low Potassium Alert Dogs) alert recipient to oncoming seizures in order for the recipient to have ample time to assume a safe position. Can also perform a bracing behavior to help prevent injury from falls and communicate an emergency to someone close by.
Physical Assistance Dogs open and close doors, refrigerators, turn on and off lights, retrieve items from the floor, answer telephones, carry objects, assist in pulling wheelchairs up inclines or rough terrain, assist in balance and walking, provide a distress signal, emergency management situations.
Hearing Assistance Dogs identify sounds such as: an alarm clock, doorbell, door knock, fire alarm, telephone, baby crying, and more and alert the client and respond accordingly.
Autism Companion/Assistance Dogs facilitate social contact with third parties and may reduce the frequency, duration, and severity of certain types of behaviors. Can prevent a child from bolting by using a dual-tethering system and can aid in locating an escaped child incase the child becomes separated from the dog.
Psychiatric Service Dogs perform behaviors automatically to reduce the frequency and severity of depression episodes, panic attacks, provide a buffer from crowds, facilitate social interaction, and help to facilitate general relaxation and confidence.
PTSD Service Dogs perform behaviors automatically to calm panic attacks associated with triggers and other symptoms.
Peanut Sniffing Alert Dogs alert recipient to the presence of peanuts in foods and on surfaces that may cause severe allergy reactions to recipient if not aware of the presence of.
Other Services such as Diabetic Service Dogs, Low Potassium Sniffing Dogs, Hospice Therapy Dogs and other custom training programs available.
Please ask us for details.
If you have questions about Labradoodle Puppy Training, please Call us or use our Contact Form.
Georgia Premiere Australian Labradoodle Breeder